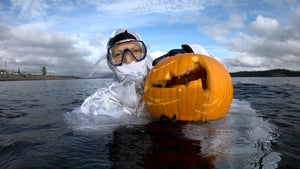 Underwater Pumpkin Carving 🎃
It's time to start planning your pumpkin carving! On Sunday October 29th we will be co-hosting the 26th Annual Underwater Pumpkin Carving Contest at Argonaut Wharf, in Campbell River with Oceanfix. The event will begin at 8:30am.
What is Underwater Pumpkin Carving? 
Underwater pumpkin carving is a unique and thrilling activity that combines the art of pumpkin carving with the excitement of diving. It involves carving a pumpkin while submerged in water, adding an extra level of challenge and fun to the traditional Halloween tradition.
Why Carve a Pumpkin Underwater?
Carving a pumpkin underwater may seem like a daunting task, but it offers a range of benefits and unique experiences. Firstly, it provides an opportunity to showcase your creativity and carving skills in a completely different environment. The underwater setting adds an element of surprise and adventure, making the activity even more exciting.
Challenges of Underwater Pumpkin Carving
Carving a pumpkin underwater presents several challenges that make it a truly thrilling experience. The buoyancy of the water affects the way the pumpkin behaves, making it more difficult to control and manipulate. The limited visibility underwater adds an extra level of difficulty, requiring divers to rely on their sense of touch and spatial awareness.
Tips for Successful Underwater Pumpkin Carving
While underwater pumpkin carving can be challenging, there are several tips and techniques that can help you achieve success:
Choose a pumpkin with a smooth surface and a sturdy stem to ensure it holds up well underwater.
Use a waterproof marker to sketch your design on the pumpkin before diving.
Consider using specialized carving tools designed for underwater use, as they are more effective in the water.
Take your time and work slowly to ensure precision and safety.
Practice your carving skills in a pool or controlled environment before attempting it in open water.
Join the Underwater Pumpkin Carving Contest
If you're up for the challenge, don't miss the opportunity to participate in the 26th Annual Underwater Pumpkin Carving Contest at Argonaut Wharf. It's a chance to showcase your carving skills, meet fellow diving enthusiasts, and have a great time. Remember to bring your own carving tools and diving equipment, and be prepared for an unforgettable experience.
So mark your calendars for Sunday October 29th and get ready to dive into the exciting world of underwater pumpkin carving. Whether you're a seasoned diver or a beginner, this event promises to be a thrilling adventure that combines the Halloween spirit with the beauty of the underwater world.
Entry fee is $10 and includes a pumpkin, one raffle ticket for extra prizes and a BBQ. Raffle tickets will be available for purchase at 1 for $2 or 3 for $5. There will be prizes for best costume, best carving and more! All proceeds this year are to be donated to the Greeenways Land Trust. Please RSVP and indicate if you would like a meat or plant based patty for the BBQ. 
8:30 - Registration and Briefing
9:00 - Divers in Water
9:30 - Divers out of water
11:00 - Prizes and BBQ
Happy Spooky Season!