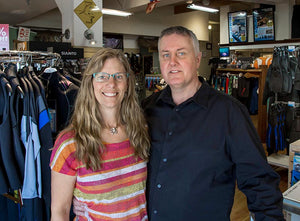 Under New Ownership!
Welcome to Pacific Pro Dive – 2019! We are incredibly pleased to announce that PPD is under the new ownership of Robyn and Scot Fyfe. Many of our regular customers will recognize Robyn – she has been an integral part of the store for a few years, as well as being a local resident and very active diver.
Here's a few words from the new owner Robyn Fyfe:
I have always wanted to dive ever since I can remember, so when I moved to Victoria in 1980 the first thing I did was get certified as an Open Water Diver. I continued my training with Divemaster in 1988. I discovered my love for diving with its abundance of life, and I have since logged dives all over Vancouver Island, British Columbia and the world. In 2012 I became a diving instructor and to this day enjoy introducing people to the wonders of our oceans.
During the last 20 years, I have built a successful bookkeeping/tax preparation business while helping my husband, Scot, run a successful project planning company. With our combined business and planning skills, and our mutual love of diving, it just seemed natural that we buy Pacific Pro Dive in Courtenay when the opportunity was presented to us.
We are excited to be business owners in the Comox Valley where we can build relationships, provide employment opportunities and be an active part of the community.
Most of all we are looking forward to showing a new generation of divers the wonders that await beneath the waves.
Here's a few words from the new owner Scot Fyfe:
Do you know what I love about the diving community? A shared sense of responsibility. If I learn to dive in harmony with nature, I'd like to share that passion with other people. The greatest gift we have ever been given are our oceans. As divers we are representatives for the sea and are stewards of this world.
Many non-divers are afraid of what lurks below the surface, until they put on a mask and sink beneath the waves. Almost instantly they realize there was nothing to be afraid of, and plenty to be fascinated by.
Come join us at Pacific Pro Dive. We want you to experience something magical. The first time you encounter marine life in its natural environment will amaze you. You'll be hooked.
Former owners Bill Coltart and Sharon Morgan still remain active with their charter business,
Big Animal Encounters
– Pacific Pro Dive's partner charter service.