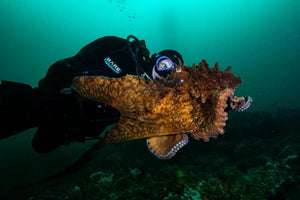 Pacific Pro Dive Ambassadors: A Giant Octopus Encounter
(Photo by Shannon Groenewegen)
With the abundance of world class diving here on Vancouver Island, it is no wonder a passionate dive community has developed in the area. There are some that have saltwater running through their veins, so these dive addicts are a perfect choice to become Pacific Pro Dive Ambassadors, mirroring our passion and enthusiasm for the oceans. 


We would like to introduce the first of our Ambassadors, Krystal Janicki. Krystal embodies the life of an adventurer, always smiling ear to ear after every dive and looking forward to the next marine life encounter. Born and raised in Campbell River, British Columbia, Krystal has grown up surrounded by the Pacific Ocean, endless mountains, glacial lakes, and salmon filled rivers. She first became enthralled with diving when she saw a boat full of divers preparing for a trip. After interrogating them about their experiences she signed up for her open water course and never looked back. That was in 2014 and since then she's logged over a thousand dives and learned a ton of new skills along the way. She is now certified to Tech 40 with sights on more tech training and cave certifications.


One of Krystal's most precious memories, however, was her recent, heartwarming encounter with a giant pacific octopus - the largest species in the world!


Discovery Passage is a body of sea located between Vancouver Island and Quadra Island, part of the Discovery Islands of British Columbia. The current flows at speeds of up to 15 knots through Seymour Narrows, the narrowest section of the passage. These strong currents bring the nutrients needed to support the growth of an abundance of marine life, some to record sizes. The Giant Pacific Octopus (GPO) is one such creature that can grow to 29.5 feet (9 m) wide from the tip of one leg to the tip of another and weigh a hefty 44 pounds (20 kg). In addition to their large size, marine biologists continue to find evidence that octopuses are highly intelligent and even capable of displaying emotions as Krystal will attest to. 

While diving the colourful walls of Discovery Passage, Krystal and a group of divers discovered a large GPO that was curious enough to emerge from its den and approach them with outstretched arms. Krystal took a moment to enjoy the encounter before reaching for her camera, but the Octopus had other ideas! It reached out to her, slowly and calmly touching her and the camera and displaying its impressive size. Krystal's recount of the encounter is enchanting:


"It held me, it hugged me, it chose me. It never pulled or yanked. It never siphoned or changed colour. It was sweet and gentle; it was curious and soft. It intertwined my soul into its own. I've never been so overwhelmed that I was brought to tears like this. I let go of all my thoughts and just leaned my head against this octopus and closed my eyes."


"When I opened my eyes I saw an eye of the octopus looking around at the other divers, but when it looked back at me, we locked contact, and the entire pupil changed, I could see it focus on me, and I felt as if it was embedding a massive print directly on my heart".


After the thirty-minute humbling encounter, Krystal would be the first to tell you how gentle, intelligent and beautiful these creatures of the Pacific Northwest can be. While GPOs are quite common in our waters, this level of encounter is rare. Pacific Pro Dive actively promotes and urges divers to act responsibly towards all marine life. Never aggressively approach, intimidate or scare an animal. A diver can tell from a creature's reactive behaviour whether they are too close, or too interactive. Krystal has become a master at reading octopuses, and it seems they have become masters at reading her!