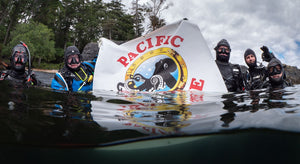 Let's Build a Thriving Dive Community – Join Our Club Dives!
At Pacific Pro Dive it is our mission to build a dive community.   If you haven't been on one of our Club Dives, you've been missing out.  We lead a Divemaster or Instructor guided dive to our local dive sites every 2nd Sunday.  The reason we lead with a professional is so our newly certified divers or newcomers to our community get out diving, becoming familiar with our sites and get an opportunity to meet new dive buddies.  You can join our Facebook Adventure Club to see our club dive posts, connect with other divers or check our calendar for dive dates - https://www.facebook.com/groups/PPDadventure 
Once you take your Open Water course and become certified it is important to get out diving.  The next 10 dives will help you fine tune your buoyancy and start to feel comfortable diving on your own.  Our guides are always happy to help you with gear knowledge as you begin collecting your gear.   It is also a good idea to take your Advanced Course soon after you are certified to get some dives under your belt and learn some new skills.
You probably already have your own mask and snorkel; if not we have lots in stock and this is a good time to take advantage of our sales or shop online - https://pacificprodive.com/collections/all-scuba   Your next gear purchase should be a computer and an entry level computer can cost you from $300 - $500.  Later if you upgrade, you will have a great backup computer.
A light is a very valuable piece of equipment, particularly in our local waters.  Our water is very green so it can be hard to see the vivid colours of our spectacular life.  You will need a light to peer into an octopus den or illuminate the bright colours of a flabellina or opalescent nudibranch, enjoy the bright orange of a plumose anemone or a dark purple starfish.  We carry many lights that have 1000 – 2000 lumens and range in cost between $170 and $360.  
If you have collected most of your gear but not an exposure suit, we can help you find the right one.  We carry a variety of neoprene, crushed neoprene, bilaminate, trilaminate and cordura suits.  We have some good deals on suits in the store or you can custom order the suit that best fits you.  Our dry suits carry a 7 year warranty on their seams and a 2 year warranty on zippers.  If you already own a dry suit, then you should spoil yourself with a set of warm, comfortable thermal underwear; superior warmth with minimal loft.  We have a range of products for those who run warm or those who run cold.  https://pacificprodive.com/collections/scuba-undergarments-mens
Come out and join us on a club dive or come in for a cup of coffee and let our staff help you find that perfect piece of gear you need or just want.  We have specials running through the month of December and we hope to see you in the store or out diving.