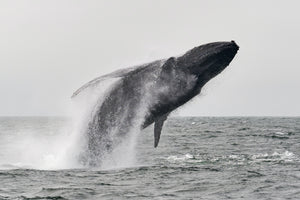 Humpback whale stuns boat crew!
Pacific Pro Dive & Marine Adventures run several sightseeing, whale watching and marine eco tours every week. Add to that multiple dive charters and water taxis and you have yourself a pretty constant sea faring operation. So when we say "wow", you know we mean it!
A scheduled marine tour this week was paid a visit by an unexpected, but welcome visitor, a humpback whale that breached out of nowhere, beautifully rising above the surface, before causing a mini tidal wave as it fell back down.
"I was almost too scared to hit the shutter button!" says Bill Coltart, skipper of the marine tour at the time. But we glad he did, as you can see from the iPhone image - it's a very cool sight!
Stunned passengers watched in awe as one of our planets largest, and most graceful creatures jumped out of our BC waters. With more sightings this summer than in recent years, hopes are high that these incredible mammals are once again calling British Columbia waters their home.
Click here to see Chek News' story on Pacific Pro Dive & Marine Adventures humpback whale encounter!