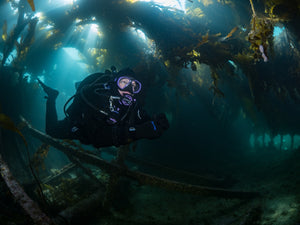 Get "Wrecked" on Vancouver Island
Get "Wrecked" on Vancouver Island
Descending onto a shipwreck incites a unique form of excitement, accompanied by an eerie sense that time has stopped, preserving the history and story of the vessel resting in its watery grave. Floating through the cold, quiet waters exploring something that clearly does not belong under the surface, leaves the diver with a sense of exploration, and a somber respect for the power of the ocean.
The waterways surrounding Vancouver Island have always been known to Mariners as dangerous waters, but not all wrecks here were natural. The Artificial Reef Society of BC has successfully created artificial reefs by responsibly sinking various vessels in divable waters including a Boeing 737!
As avid divers, we have highlighted a few of the top natural and artificial wrecks for you to enjoy while exploring Vancouver Island.
May Island Wreck
Although called a wreck, this vessel was a retired BC Ferry that was sunk in approximately 50ft of water. This wreck is in relatively shallow waters allowing all levels of divers to explore. The rays of sunlight spearing through the structure while the kelp greenlings weave around the plethora of plumose anemones makes this a 'must-see" experience.
Xihuw Boeing 737
It is odd enough to come across vessels that used to navigate the surface waters, but nothing quite compares to exploring the cockpit of an airliner that used to fly the skies! Intentionally sunk in 2006, this former Canadian Airlines Boeing 737-200 donated by Air Canada, sits off the shore of Chemainus, BC. The fuselage sits in about 70 ft of water, and the plane has been stripped of seating, making it accessible for divers to explore inside the wreck.
The Vanlene
On March 14th, 1972, the M.V. Vanlene freighter vessel blindly entered Barkley Sound in thick fog, navigating using only a compass and carrying 300 Dodge Colts from Japan. The Vanlene ran aground on Austin Island, its crew believing it was in Juan De Fuca Strait. It has been almost 50 years since the Vanlene sank and the marine life that has developed a home on the shipwreck is stunning. With the bow resting in only 25 ft of water, this wreck remains a favourite dive site for all levels of divers.
The S.S. Capilano's wreckage, floundered on October 1, 1915, in the northern Strait of Georgia and remained relatively intact and undisturbed from the time of its loss in 1915 up until its discovery in 1973. The steel hull of the vessel, along with all its machinery and rigging gear, remain upright about five miles off Harwood Island, and is now designated as the Capilano Shipwreck Provincial Heritage Site.  The wreck now sits in 120ft of water and is most known for its "glow" from the hundreds of white plumose anemones that call this structure home.
These wrecks are only the tip of the iceberg of what Vancouver Island has to offer. If wreck diving piques your interest, the variety found here are sure to fill up your dive bucket list quickly. As always please visit or reach out to us and we can help you make your dive trip a success.