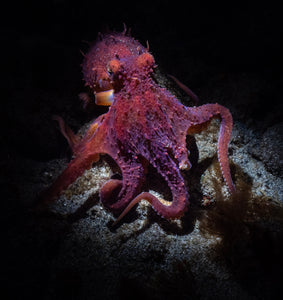 Five Tips to Enjoy Night Diving on Vancouver Island
As the days grow longer in preparation of the winter months in British Columbia, the ocean visibility improves significantly. With less sunshine, the algae blooms are limited, resulting in visibility up to 60ft at times. With conditions such as this, it's no wonder we want to get out diving as much as possible! However, many of us work during the daylight hours, leaving weekends for day dives only - but we have a secret- the best diving can sometimes be found at night!
Night diving is unique because many creatures thrive at night, often rising from the depths to hunt. Octopus emerge from their dens in search of prey, while other creatures who are most active during the day, take cover and hide for the night. Squid and other deep-sea creatures rise to feed in the dark waters, retreating to the depths when dawn arrives. Night diving is some of the best times to see GPOs, squid, skates, and even lumpsuckers, and therefore we have put together some tips for those looking to get into night diving on Vancouver Island.
Dive the site during the day.  Although this is not always possible, we recommend that you dive that same site during the day, prior to the night dive.  This will help you orient yourself at night, and better map out how you want to explore it.  This will also provide you some perspective on how each site changes from day to night.
Take the PADI Night Diving Speciality course.  If you are unfamiliar with diving at night, we suggest getting started with the Advanced PADI Night Diving Speciality course to get you orientated on what you will need for a successful dive. This knowledge will help you plan and execute a safe night dive.
Dive at dusk.  If you can't make it during the day, diving at dusk, or twilight, leaves a little bit of light in the sky before it completely fades into night.  Letting your eyes get used to the darkness is a good way to prepare for night diving.
You can't have too many lights.  The only significant light you will find on your night dive is that which you create.  That is why it is crucial to have a reliable dive light, and a second as back up in the event of a loss of your primary light.  When picking a primary light there are many factors to consider strength, beam, battery type being some of the most important.
Bring a buddy.  Trust us, your dive buddy will thank you for bringing them out on a night dive! As always, it's important to dive with a buddy for safety, but just remember to review hand and light signals before going on the dive.
There is a ton more to learn about diving at night, so if you are curious give us a shout at Pacific Pro Dive to inquire about the PADI Night Dive Specialty or add the Night Adventure dive to your Advanced Open Watercourse. If you are simply looking for a buddy, join our Pacific Pro Dive Adventure Club on Facebook and connect with a community of local divers!