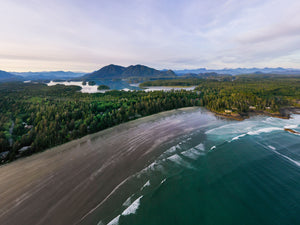 Diving Tofino and Ucluelet: The Gateway to the Broken Islands
Tofino and Ucluelet are small communities on Vancouver Island, British Columbia are separated by the renowned "Long Beach" which is part of the Pacific Rim National Park. These cozy towns are nestled along the coastline bursting with natural wonders and the rich culture of the Nuu-chah-nulth First Nation.
Every year thousands of tourists flock to Vancouver Island to experience a taste of the laidback Westcoast lifestyle and enjoy the natural wonders of the Pacific Rim National Park. Although Tofino and Ucluelet are well known for surfing, storm watching, whale watching and kayaking there has been a spike in interest in both freediving and scuba diving in recent years. Freediving from shore is an amazing way to explore the intertidal and subtidal shores along the rugged west coast; however, to access some of the lesser explored dive sites a boat is required.
To the southeast of Ucluelet is a marine area that features the Broken Islands Group unit of the Pacific Rim National Park Reserve. The Broken Group includes numerous small islands and islets that feature diverse diving including shipwrecks, kelp forests, deep-sea pinnacles and a spectacular display of marine biodiversity. 
These waters boast a rich diversity of marine life including, sea otters, orcas, gray whales, sea lions, squid, giant pacific octopus, ratfish, sea stars, sunfish, wolf eels and even six gilled sharks to name a few. There is no limit to the array of species you will encounter on your dives, and each dip below the surface will be different from the last.
Although there are countless dive sites to explore among the many channels and islands, here is a taste of some of the more well-known sites you may wish to explore!
The Vanlene
On March 14th, 1972, the M.V. Vanlene freighter vessel blindly entered the Barkley Sound in thick fog, navigating using only a compass and carrying 300 Dodge Colts from Japan.The Vanlene ran aground on Austin Island, its crew believing it was in  Juan De Fuca Strait. It has been almost 50 years since the Vanlene sank, and the marine life that has developed a home on the shipwreck is stunning. With the bow resting in only 25 ft of water, this wreck remains a favorite dive site for all levels of divers.
Puffin Islet:
This dive site explores the islands perimeter featuring large boulders, nooks and crannies, carpeted with pink coralline algae, sea stars, nudibranchs, kelp crabs, octopus, and schools of curious rockfish. Marine life increases toward the more exposed side of islet.

Hankin Island
This site is well suited for all levels of divers, as it is shallow and protected from the winds and ocean swell. The bottom is rocky but loaded with colourful crabs, sea stars, sea cucumbers, kelp greenling, nudibranchs and anemones.
Chup Point
This site consists of two pinnacles that sit in approximately 60 ft of water and has been referred to as "heaven" for the macro underwater photographers by local divers. There is no shortage of small critters to explore in the cracks and crevices, and the shallow depths make it accessible to all level of divers.
There are countless more sites to explore, so stop in at our new Pacific Pro Dive Tofino & Ucluelet dive store for tank fills, and any gear you might need. If you have explored these amazing waters, let us know what your favourite dive site is?!
Image by Maxwel Hohn