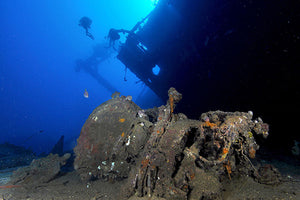 Chuuk Lagoon - Dive Vacationers Paradise
Chuuk Lagoon, part of the Caroline Islands group, is known for being where the 'Ghost Fleet of Truk Lagoon' lies. Liveaboard dive vacations to Chuuk, sometimes known as Truk Lagoon, can offer a host of sub aquatic secrets, from shipwrecks to actual human remains, all of which have been lying in these lagoons since the Second World War.
During WW2, the Japanese Empire had their strongest base in the Pacific there. It comprised of seaplane bases, airstrips, sub repair shops, and radar centres, amongst others. There were over 44,000 men stationed there, and it was often referred to as 'the Gibraltar of the Pacific'.
The allies destroyed the base in 1944 with a blistering three day long naval attack. This attack made Chuuk Lagoon the biggest ship graveyard in the world. It is said that there are 12 Japanese warships, and 32 merchant ships in the lagoon. Most of this wreckage can be found in crystal clear water, less than 50 feet below the surface.
In short, these lagoons are scuba divers and wreck diving enthusiasts wonderland. Today these islands are known as the Federated States of Micronesia. They compromise a land mass of 49.2 square miles and have a population of approximately 34,651 persons. 
Due to a Jacques Cousteau special done in 1969 the Chuuk area became a well known area for exploring sunken ships. It has minimal ocean currents to deal with, and waters that are clean and very clear, all in a naturally protected area.
In these calm and clear areas the divers can find shipwrecks with mostly intact structures, still covered with depth charges, gas masks, guns and other items. More advanced wreck divers can go below decks and find chilling human remains, or holds full of war machine paraphernalia such as bulldozers, bombs, munitions, radios, railroad cars, fighter aircraft, motorcycles, tanks and torpedoes. It is a virtual treasure chest for divers of all types, and one that often demands time in the evening to reflect on the historical significance of the site. There is even one of the subs that attacked Pearl Harbor in the lagoon. It is the I-169 and it sank while diving to avoid the bombing by the naval barrage.
If you want to dive some of the best shipwrecks in the world, Chuuk Lagoon is where you need to go. You must. It's the top of your bucket list, even if you don't know it! It just doesn't get any better, and the location couldn't be any more perfect.
Sea The World Adventure Travel has a trip running to Chuuk Lagoon in 2017, but unlike a normal livebaord, this trip has been put together in conjunction with Hollis Gear. Part expedition, part vacation, all fun and adventure!