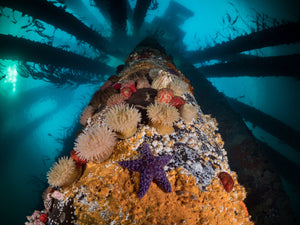 5 Reason Why Vancouver Island Should Be on Your Bucket List
Year-Round Diving
- Yup you heard that right! Every season has a unique set of conditions and there is always something spectacular to see. Although the winter months provide the clearest visibility in the oceans, the spring brings the herring spawn, and consequently a feeding frenzy of many of the heavy hitters on the "to see" bucket list. The summer months bring slightly "warmer" diving temps (it's still cold, it's Canada), but you also have the option to explore crystal clear glacial river canyons, and free dive with thousands of salmon.
Variety
- So many dive sites, so little time! The island seems to have limitless options for diving. We boast many well-known shore dives sites, along with affordable boat charters that will whisk you away to some of the most amazing drift, and wreck dives in North America!
World Renowned Diving
- Our cold, clear waters are famous for good reason! The explosion of colour, abundance, and biodiversity of life is breathtaking, and promises a unique experience with each dive. As the strong currents flow through the many passages and inlets surrounding Vancouver Island, they bring with them the nutrients needed to support this miraculous display of creatures, and also provides enough food and energy for them to grow to impressive sizes. You will find some of the world's largest Giant Pacific Octopus here, as well as an impressive assortment of massive nudibranchs; just to mention a few!
Flexible and Affordable Options
- With so many dive options, you can create an itinerary to fit your budget. We offer fully guided boat tours, as well and local club dives from shore sites. If you have your own gear, perfect! If not, we have a wide selection of rental options to get you kitted out for your dive-cation.  If you prefer to forge your own path, drop into our shop to visit our friendly staff for tank fills, and local tips and tricks!
Last but not least, we can promise a
Uniquely Canadian Experience
. From the friendly and enthusiastic dive community, to the like-minded outdoors-loving people who live here, you will find friendly faces wherever you go. Many establishments pride themselves on supporting local authentically Canadian business and you will see this reflected in the food served at restaurants, as well as the plethora of craft beers, spirits, and wine produced here on Vancouver Island.
 If that's not reason enough to
book your next trip here
,
check out our Instagram
for more inspiration. We hope to see you soon!